With the desire to share social responsibility and contribute value to the community, from April 24, 2020, Big Sky Joint Stock Company and BOND Human Resources Development and Training Co., Ltd. officially became businesses. accompanies the project "Hand-over-the-fly jobs" with 200,000 job opportunities to support workers and businesses through the Covid-19 Virus Pandemic.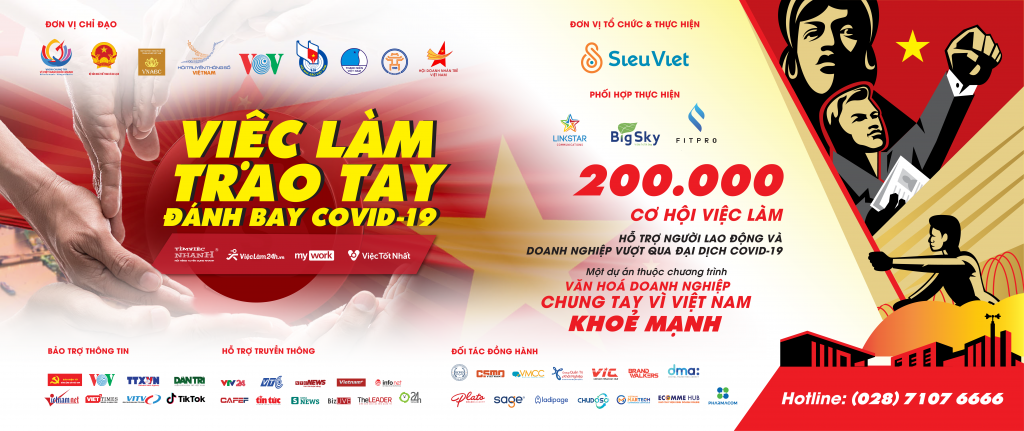 Big Sky is the unit that carries out the program "Hand-in-hand job – Flying Covid"
This is an activity in the overall action sequence of the program "Corporate culture to join hands to prevent and combat COVID-19" with the theme "For a healthy Vietnam" by the Organizing Committee to implement the Campaign. Establishment of Vietnam Corporate Culture (referred to as BTC 248 – established under Decision No. 248 / QD-TTg dated February 28, 2018 of the Prime Minister) in collaboration with the Ministry of Culture, Sports and Tourism and the Association Vietnam Enterprise Culture Development (VNABC), Vietnam Digital Communication Association, Hanoi Association of Small and Medium Enterprises, Standing Committee of Central Youth Union, HCMC Youth Union, Vietnam Voice Radio, Vietnam Association Vietnamese journalists have been officially launched online since April 7, 2020.
With the goal of bringing 200,000 job opportunities from over 10,000 businesses across the country; successfully connecting 100,000 candidates to businesses that need to recruit, the project is deployed completely non-profit on the online employment ecosystem of Sieu Viet Group in 02 months and may take longer depending on the evolution of the translation. , starting from April 24, 2020.
Moreover, in order to help workers and businesses in a strong position to restart, stabilize work and services, BOND will deploy a number of training programs, sharing appropriate knowledge and skills.
Currently, Big Sky and BOND are the pioneers accompanying the project. It is expected that the number of participating organizations will continue to increase and can reach hundreds, thousands of units!
By motivation and good values, it is sure that the project will contribute to stabilizing the post-Covid life and spreading good cultural values ​​in each person.